Dr. Berkson and his patients are partners in the healing process. He creates a holistic program for each patient that combines conventional medicine, vitamin and herbal supplements, nutrition, healthy lifestyle practices, and antioxidants like Alpha Lipoic Acid (administered at Integrative Medical Center). Click here to learn more about Alpha Lipoic Acid, a natural substance produced by our bodies that Dr. Berkson has worked with since 1977.
About half of our patients travel from other states and countries. Local and out-of-town patients often come seeking treatment for the following:
• General Health & Wellness
• Cirrhosis
• Chronic Obstructive Pulmonary Disease (COPD)
• Diabetes mellitus
• Hepatitis C
• Lupus
• Multiple Sclerosis (MS)
• Rheumatoid Arthritis
• Peripheral Neuropathy
• Guidance on nutrition, supplements and/or lifestyle habits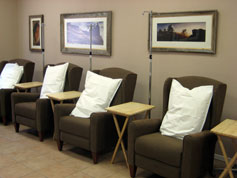 Dr. Berkson tailors his treatment for each individual and can only offer medical advice to patients who have come to the office for an appointment. He cannot give medical advice over the phone. Please contact us to make an appointment at (575) 524-3720.