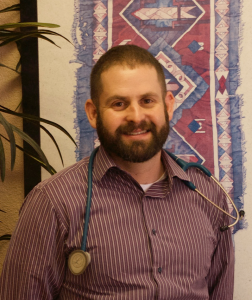 Arthur Berkson, MD, graduated in December 2012 from a two-year fellowship at Arizona Center for Integrative Medicine at the University of Arizona, founded by Dr. Andrew Weil. He and 55 clinicians in various specialties from around the world studied in Tucson and online about the benefits of integrating nutrition, exercise, and lifestyle changes in their treatment practices, including conventional and herbal medicines, dietary supplements, and mind-body connections.
In the news: Integrative medicine offers new approach to health (Las Cruces Sun News)
CV FOR ARTHUR JOSHUA BERKSON, M.D.
PROFESSIONAL and TEACHING ACTIVITIES
Attending Physician January 2011-present
Integrative Medical Center of New Mexico. Las Cruces, New Mexico.
Volunteer Attending Physician April 2011-present
St. Luke's Health Care Clinic. Las Cruces, New Mexico.
Attending Physician/Lead Physician August 2006-December 2010
La Clinica de Familia. Anthony, New Mexico.
Preceptor/Assistant Professorship August 2006-December 2010
Teaching and mentoring PA and medical students and family medicine residents from the University of New Mexico, nurse practitioner students from the University of Texas-El Paso and medical students from Texas Tech University-Paul Foster School of Medicine.
Performance Improvement Committee Member August 2009-August 2010
Vice Chairman Ethics Committee August 2008-August 2009
Mountain View Regional Medical Center, Las Cruces, New Mexico.
Instructor of Anatomy and Physiology 2004
Pacific College of Oriental Medicine in Chicago, Illinois.
Student Technician 1997-1999
State of New Mexico Scientific Laboratory Division, Kit Preparation Unit. Albuquerque, New Mexico.
EDUCATIONAL ACTIVITIES
Fellowship in Integrative Medicine January 2011-present
University of Arizona/Arizona Center for Integrative Medicine Fellowship in Integrative Medicine. Tucson, Arizona.
Anticipated graduation in December 2012.
Internship and Residency in Family Medicine July 2003-June 2006
University of Illinois Chicago-Illinois Masonic Medical Center Family Medicine Residency. Chicago, Illinois.
Medical Degree July 1999-June 2003
Loyola University-Stritch School of Medicine. Maywood, Illinois.
Awarded Doctor in Medicine (M.D).
Bachelor of Science September 1995-May 1999
University of New Mexico. Albuquerque, New Mexico.
Awarded Bachelor of Science (B.S.) in biology, cum laude. Minor in English Literature. Magna cum laude in University Honors Program.
RESEARCH AND PUBLICATIONS
Revisiting the ALA/N (alpha-lipoic acid/low-dose naltrexone) protocol for people with metastatic and nonmetastatic pancreatic cancer: a report of 3 new cases. BM Berkson, DM Rubin, AJ Berkson. Integrative Cancer Therapies 2009 Dec;8(4); 416-22.
Reversal of Signs and Symptoms of a B-Cell Lymphoma in a Patient Using Only Low-Dose Naltrexone. BM Berkson, DM Rubin, AJ Berkson. Integrative Cancer Therapies 2007 Sep;6(3); 293-296
The Long-term Survival of a Patient with Pancreatic Cancer with Metastases to the Liver after Treatment with Intravenous Alpha-Lipoic Acid/Low-Dose Naltrexone Protocol. BM Berkson, DM Rubin, AJ Berkson. Integrative Cancer Therapies 2006 Mar; 5(1): 83-89
User's Guide to the B-Complex Vitamins. Coauthored with Burton Berkson, M.D., Ph.D.  Basic Health Publications 2006.
The Effects of Watching Super Size Me on Adolescent Attitudes and Behavior toward Fast Food. Unpublished study 2006. UIC-Illinois Masonic Family Medicine Residency.
Glutathione S-transferase Induction in Rat Hepatocytes by Various Xenobiotics. Presented at University of New Mexico department of biochemistry research forum, May 1999.
HONORS AND AWARDS
National Health Service Corp-Loan Repayment Program August 2006-August 2010
Awarded by federal government for primary care service in underserved areas of the United States.
Chief Resident, UIC-IMMC Family Medicine Residency March 2005-March 2006
Golden Commode Award Awarded June 2006
For outstanding home visit patient care during residency.
Robert Cavallino, MD, Prize Awarded June 2006
Advocate Illinois Masonic award for "the resident who exemplifies the quality of conscientiousness in every detail of patient care".
Academic Achievement Award Awarded June 2004, June 2005 and June 2006
For superior academic and clinical performance in family medicine residency.
Presidential Scholarship September 1995-May 1999
Full tuition and books merit based undergraduate scholarship to UNM.
AFFILIATED ASSOCIATIONS
New Mexico Medical Society 2010-present
American Academy of Family Physicians 1999-present
American Medical Association 2000-present
Phi Beta Kappa Inducted 1999
CERTIFICATION
Board Certified in Family Medicine by the American Board of Family Medicine. Since July 2006.
State of New Mexico Licensed Physician and Surgeon. Expires July 2013
State of Illinois Licensed Physician and Surgeon. Expires July 2014
BLS Certified by American Heart Association. Expires September 2012
PERSONAL
Proficient in medical and conversational Spanish.
Hobbies include player/manager of my recreational softball team, running (have completed multiple 5k's and half-marathons), going to the gym, reading, watching movies, and spending time with my family, my friends and my dog.